Racial Disparities and Player Health
Health disparities— defined by the Department of Health and Human Services as "differences in health outcomes that are closely linked with social, economic, and environmental disadvantage — […] often driven by the social conditions in which individuals live, learn, work and play"—are a major concern in our country. Major differences in common diseases are often found between racial groups in the general public. Men who have played professional football at the highest level are obviously not the general public, and there are reasons to expect that among this elite group disparities would not exist.
Recently, our research scientists examined the possible connection between race and five health outcomes (physical and cognitive impairment, pain, depression, and anxiety) among 3,747 study participants to determine whether disparities in health existed among former players of different racial and ethnic backgrounds. We focused on these five areas and how the players reported these issues affected their daily living.
What we found:
Black players were more likely to have poorer health in each area we examined than White players. Native Hawaiians and players of other races had a greater risk in each area we studied except impaired physical functioning, compared with White players.
These findings were not explained by racial differences in playing position, years of play, or body mass index (BMI). They were also not explained by games started, pain medication, or performance enhancing drug use.
We did not find smaller health differences by racial identity in younger players, even though they played in the NFL in a more recent era (e.g., more Black coaches, higher salaries, perhaps reflecting a more progressive era) compared to older players.
Despite having access to social conditions that may be considered as advantages, such as higher median income, healthcare access, college education, and expert exercise regimens, race-associated disparities were present in former players—reflecting the presence of disparities in the general population.
The figure below shows the differences in health outcomes by racial identity. Compared with White players, Black players were 36% to 86% more likely to have poorer health in each area and other non-White players were 25% to 64% more likely to have poorer health in each area.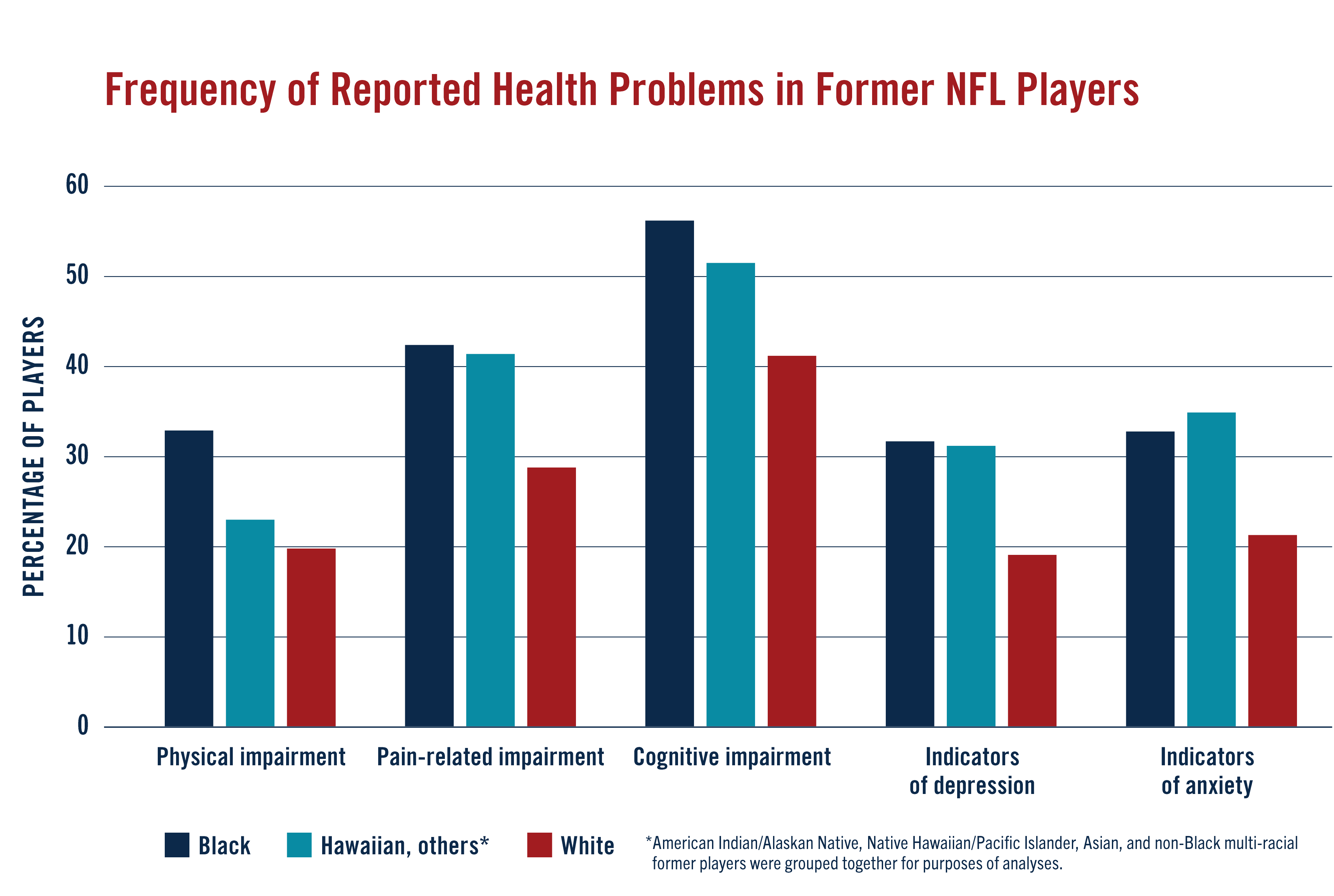 While these results may not be surprising to some, this data confirms the presence of health disparities and provides direction for our future research. The results also help us to identify areas where players can work to improve and advocate for their health.
Our study suggests that health disparities associated with race are not easily reversed by the socioeconomic advantages that may come along with something like playing a professional sport. The challenges that underlie these disparities are complex. For example, former players may have had these differences in experiences before, during, and after their NFL playing days. Experiences of discrimination, for instance, have been associated with high blood pressure, a major health concern. The Football Players Health Study is committed to looking beyond just the socioeconomic advantages of playing in the NFL and exploring other potential drivers of these disparities so we can better address them.
Below are some further resources on health disparities and actions players can take to address impaired physical and cognitive functioning, pain, and depression and anxiety.
Further Resources:
Physical function
Medical/Wellness Assessments from The Trust (Powered by the NFLPA)

Brain and Body Assessment provides comprehensive medical evaluations to players who have been out of the NFL for fewer than 15 years. This program identifies areas of concern and the resources and services to address them.
Milestone Wellness Assessment provides comprehensive medical evaluations to players who have been out of the NFL for 15 years or more. This program identifies areas of concern and the resources and services to address them.
Cognitive function
This Harvard Health article outlines how exercise can actually keep your brain healthy and prevent cognitive decline.
Pain
Depression and anxiety
NFL Life Line is a free, independent and confidential phone consultation service that is available to former players and their families 24 hours a day, seven days a week. The Life Line is run by professionals who are trained to assist individuals seeking resources for mental or physical health concerns or who are experiencing personal or emotional crises. Call (800) 506-0078 or visit the website.
The Players Assistance & Counseling Services benefit provides eligible former players and their families with up to eight free counseling sessions a year for matters ranging from family/marital concerns to depression. Contact: (866) 421-8628.
Symptoms of depression and what you can do.
Anxiety in the former player population.
Community resources
AthLife is a partner of The Trust and assists former players with continuing education and career development.
The Manpower Group is a partner of The Trust that supports former players along every step of the job search process, provides tools and assistance for success.
The NFL Foundation offers grant assistance to current and former players to support the causes they care about, including grants for youth football camps, social justice initiatives, and more.
If you would like to learn more about health disparities:
Glossary of terms frequently used when discussing race and health disparities.
In June, we invited Camara P. Jones, MD, MPH, PhD, an American physician, epidemiologist, and civil rights activist who specializes in the effects of racism and social inequalities on health, to join us for a conversation on naming racism in healthcare and achieving health equity. You can view the conversation here.
There is increasing evidence that some racial and ethnic minority groups are being disproportionately affected by COVID-19. Factors that contribute to this include discrimination, healthcare access and quality, education and income gaps, and housing access. Additional factors include health conditions such as obesity, hypertension, and heart disease. Learn more about each factor here.
If you have questions about this information, please email our team or call us at 617-432-5000.
If you are in distress or require immediate assistance, please contact the NFL Lifeline at 1-800-506-0078 or visit their website to chat with a trained counselor.