Health and Wellness: Research that focuses on overall health and wellness.
Health and Wellness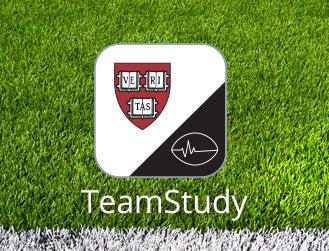 TeamStudy
Principal Investigator
Alvaro Pascual-Leone, MD, PhD, Beth Israel Deaconess Medical Center
Summary
TeamStudy was the first app dedicated to understanding the health and wellness of former professional football players by engaging thousands of former NFL players and the general public alike. Collecting information from large numbers of people on a consistent basis contributes to developing accurate scientific discoveries that address the diverse health needs of former NFL players and others.

In gathering health data from adults of all ages, gender, and cultures, with a specific focus on former NFL players, TeamStudy provided fundamental new insights into the following areas: cognition and cognitive reserve, cardiac health, and mobility.

An initiative of the Football Players Health Study at Harvard University, the app utilized Apple's ResearchKit framework.
Law & Ethics: Legal and ethical factors affecting player health, and recommendations for improvement.
Law & Ethics