Health and Wellness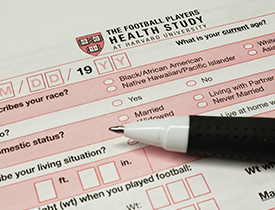 Health and Wellness Initiatives
First Health and Wellness Questionnaire (Q1)
Our First Health and Wellness Questionnaire (Q1) was made available to all former NFL players in early 2015 and remains open to participation today. The goal of this questionnaire is to collect information on the total group, or cohort, of former professional NFL players to better understand the health impact of a professional football career. The questionnaire collects information on demographic characteristics, health conditions, physical function and ability, and mental wellbeing. To date, over 4,000 former players have participated, making the Football Players Health Study the largest study of living former players ever conducted. This questionnaire is advancing our overall understanding of player health while also providing important baseline data for the development of further research. Former NFL players can participate.
Second Health and Wellness Questionnaire (Q2)
The Second Health and Wellness Questionnaire (Q2) is a follow-up to Q1 that further explores those areas of health that former players have identified as most critical. It additionally evaluates how health changes over time and gathers more detailed information on football exposure. Specific areas of focus include cardiovascular health, neurocognitive function, pain management, and other conditions commonly experienced by former players. This questionnaire also explores factors beyond football, knowing that many different aspects of life may impact player health.

Q2 is now open to those who completed the First Health and Wellness Questionnaire in 2015 or 2016. Those who completed Q1 after 2016 will receive Q2 at a later time. Former NFL players can participate.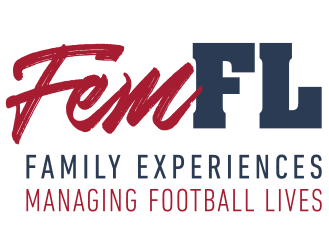 Family Experiences Managing Football Lives (FEM-FL)
| | |
| --- | --- |
| Summary | FEM-FL is a pilot research initiative designed to study the health and wellness of individuals currently partnered with former or active football players. This remote, web-based study is based on the premise that an NFL career can affect the lives of families, and the physical and mental health of NFL player partners, as well their educational and career trajectories. |
Brain Function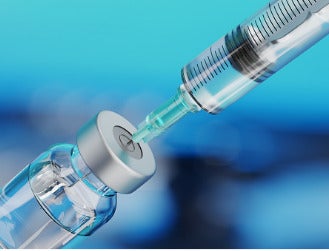 Poly-N-Acetyl Glucosamine (PNAG), Vaccination for Traumatic Brain Injury (TBI)
Principal Investigators
Michael Whalen, MD, Massachusetts General Hospital
Colette Cywes-Bentley, PhD, Brigham and Women's Hospital
Summary
This study proposes to examine the potential role for bacterial products in the brain, such as Poly N-Acetyl Glucosamine (PNAG), to promote neurodegenerative diseases, like Alzheimer's disease, in people with concussion or traumatic brain injury. These bacterial fragments may promote brain inflammation and deposition of amyloid beta, a key driver of Alzheimer's disease, in brain after concussions. If so, therapies such as PNAG, which are directed at bacterial cell membrane fragments, may alleviate cognitive dysfunction in people with one or more concussions and who develop cognitive impairment.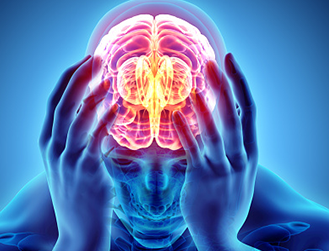 A Prospective Controlled Treatment Trial for Post-Traumatic Headaches
Principal Investigators
Alyssa Lebel, MD, Boston Children's Hospital

Alexandra M. Stillman, MD, Beth Israel Deaconess Medical Center

Pradeep Dinakar, MD, MS, MBA, FAAP, Boston Children's Hospital
Summary
Post-traumatic headaches (PTH) are the most common complaint of football-related traumatic brain injury, possibly generated by a number of stressors. This study aims to conduct a controlled treatment trial to evaluate the efficacy of medications and minimally invasive nerve block interventions as treatments for PTH and neck pain in adolescents and adults with PTH aged 16-35 years of age.
Pain and Mobility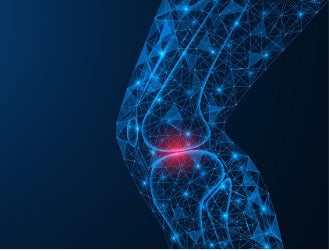 J-PRO, Novel Treatment for Early Osteoarthritis
| | |
| --- | --- |
| Principal Investigator | Martha Murray, MD, Boston Children's Hospital |
| Summary | This study proposes to advance the development of a novel treatment for early osteoarthritis. This treatment is a product called "J-PRO", a hydrogel that can be injected into an injured joint to reduce the risk of developing osteoarthritis. The study aims to quantify the cellular composition of the hydrogel to optimize the stimulation of cells that contribute to bone development. |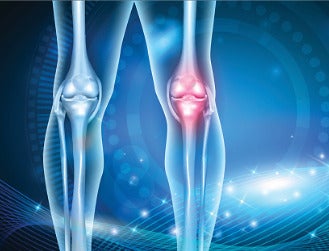 Hydrogel for Intra-Articular Delivery and Preventing Post-Traumatic Osteoarthritis (PTOA)
Principal Investigators
Jeffrey Karp, PhD, Brigham and Women's Hospital
Nitin Joshi, PhD, Brigham and Women's Hospital
Joerg Ermann, MD, Brigham and Women's Hospital
Summary
This study proposes the development of a treatment for post-traumatic osteoarthritis (PTOA). The study aims to maximize the joint residence time of a mechanically stable hydrogel platform and to demonstrate that selectively targeting genes through an intra-articular, mechanically stable delivery platform could be an effective approach for blocking the degenerative PTOA process following joint injury. Investigators expect that this research will have a paradigm-shifting impact.
Collaborations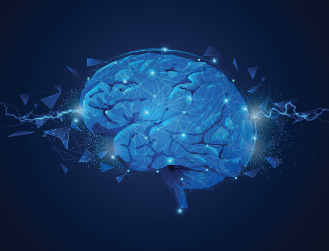 University of Pittsburgh Brain Health Initiative (BHI) Collaboration
| | |
| --- | --- |
| Summary | The Football Players Health Study at Harvard University is collaborating with the University of Pittsburgh Brain Health Initiative to strengthen and support active projects at both institutions. This partnership will accelerate discoveries about the long-term impact of contact sports and brain trauma on players. Initial collaborative work has aligned several planned BHI assessments with Football Players Health Study In-Person-Assessments (IPA) for future analyses of common measures. The Football Players Health Study team will lead recruitment outreach to former players. |