Lee Nadler
Principal Investigator
Lee Nadler has been the dean for clinical and translational research at Harvard Medical School (HMS) since November 2007. He is also principal investigator and director of Harvard Catalyst | The Harvard Clinical and Translational Science Center, Ludwig Professor of Medicine at HMS, senior vice president of experimental medicine at the Dana-Farber Cancer Institute (DFCI), and director of the DFCI Center for Clinical and Translational Research. Nadler spent the past 35 years as a clinical and translational investigator, physician, and leader. Between 1993 and 1997, Nadler built the Division of Hematologic Malignancies at DFCI into the largest and one of most distinguished groups in the world. He was one of the founding leaders of the Dana-Farber Harvard Cancer Center. In 1997, he was chosen as the first chairperson of the Department of Adult Oncology at DFCI and Brigham and Women's Hospital.
Teams: Leadership Team, Research Team
RELATED VIDEOS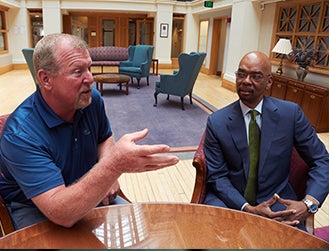 Partnering with Former Players: A Collaboration
Learn more from both former players and researchers on how their partnership is making this Study a success.