Building a Better Knee Brace for NFL Players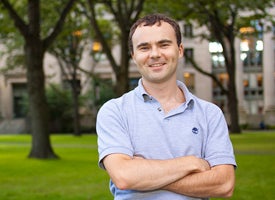 Joint pain and arthritis are the top two health complaints among former NFL players. ACL tears, which can cause joint pain and arthritis, also pose a threat to players' livelihood: in 36 percent of cases they are a career-ending injury.
Because knee injuries are of high concern to players, knee braces are a common part of a football player's gear on the field. However, these braces are usually made of hard, rigid materials. They can be uncomfortable and restrict athletes' full range of motion.
To solve this problem, two Harvard researchers have been working on a design for a better knee brace. The brace is made of a new soft material that is comfortable and flexible. Its structure has been carefully engineered to avoid restricting players' movement. The project has undergone progressive testing, and is now entering another important phase of development.
"We envision this technology being integrated into existing apparel worn by football players and reducing the risk of ACL injuries that occur during training or games," says Conor Walsh, PhD, associate professor at Harvard and co-creator of the brace.
Walsh, who founded the Harvard Biodesign Lab, is an experienced inventor of wearable technology. He closely studies the ways that parts of the body move and fit together in order to design gear that works with the body's natural movement. Walsh's collaborator is Ata Kiapour, PhD, instructor in orthopedic surgery at Harvard affiliate Boston Children's Hospital. Their goal is for the knee brace to protect and support players' knees while fitting the body comfortably.
Recently, a prototype of the brace has been tested on a group of five volunteers, and a patent is now pending. Walsh and Kiapour are now working on improving the design of the brace. The next round of development will test how changes to the material and structural design affect the brace's performance, and will address several issues identified during testing of the prototype. One of the main issues that the team still needs to solve is how to make the brace easier to put on and take off quickly.
While the development of the knee brace progresses, Walsh is enthusiastic about the final product's potential. The ultimate goal is to offer this technology for professional athletes to wear in action. A better knee brace could positively impact the quality of life and careers of millions of athletes, including NFL players, who are at high risk of knee injuries and the health problems that they cause.