A Visit with Former Players: Pre-Super Bowl 50 Trip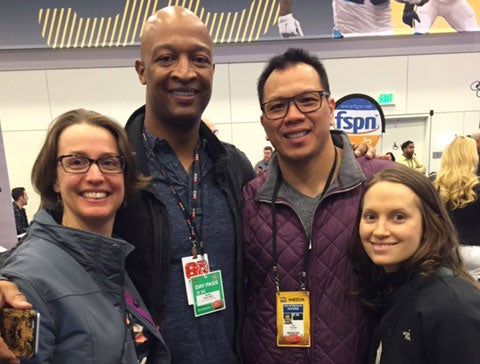 To help spread the word on our Study, the Football Players Health Study team makes an annual trip before the Super Bowl begins to connect with players as they attend events at Radio Row, NFL Legends Lounge, and The Trust Locker Room Lounge. This year, for Super Bowl 50, was no exception.
The weekend launched on Thursday, February 4, with the NFL Players Association press conference, New York Giants players Zak DeOssie and Mark Herzlich encouraged former players to join the Study. "A big part of it is the former players participating in a survey in this study that provides the Harvard group with information about what ailments they are suffering from now, what symptoms they are suffering from now," said Herzlich, a linebacker for the Giants. (You can hear more about Mark's comments on our Study at 32:51 in the You Tube link above.)
Over the rest of this pre-Super Bowl weekend, the Study team met with former players and advisors including Isaiah Kacyvenski, Dat Nguyen, Nolan Harrison, Lester Archambeau, Ed Reynolds, Eugene Robinson, Chad Brown, Charlie Batch, Andre Collins, Bernard Whittington, Don Davis, Ernie Collins, Latasha Wilson-Batch, and Rachel Terrill.
Many of our player advisors participated in Radio Row, speaking their thoughts on all things football, as well as the Study. Eugene Robinson spoke on WTEM Maryland, Denver KKFN The Fan 104.3, and Sports Byline USA. Nolan Harrison made appearances on The Gridiron Show and 1280 Sports WHTK NY.  Dat Nguyen and Jason Minnix from ESPN San Antonio invited Nolan Harrison and Lester Archambeau to speak about the Study as well.
(Pictured above are Lydia Bergen, director of operations for the Football Players Health Study (left), Alix Nozzolillo, associate director of player relations (right), with Nolan Harrison and Dat Nguyen, player advisors for the Study, at Super Bowl 50.)