Examining Race Trends in the NFL: Diversity, but not Inclusion
An important goal of the Football Players Health Study is to understand the health impacts of a career in professional football. Through our research, we've observed that Black and white players don't always share the same post-career health experiences.
Our researchers wanted to understand why these differences persist.
In a recent paper, we examined trends in player position and race. We relied on a unique data set documenting race, position, and career length on more than 20,000 NFL players who played from 1960 to 2020.
While changes in the racial makeup in the NFL over the past several decades have been widely known and discussed, this is the first time evidence based on data from NFL players has been published.
Through our analysis, we found:
The demographics in the NFL have changed since 1960 from predominantly white to predominantly Black, as shown in the graphic below.




We observed three position-specific patterns:

Five of the positions studied were filled by mostly white players in 1960, but over time became predominantly Black. These positions included defensive back, defensive line, linebacker, running back, and wide receiver.

The quarterback and kicker/punter positions began as white, and have stayed predominantly white since 1960.

Two positions reflected the most balanced demographics over time: tight end and offensive line. These originally began as predominantly white positions, but over time have become relatively balanced between Black and white players.
The graphic below shows the changes in racial demographics for each position over time.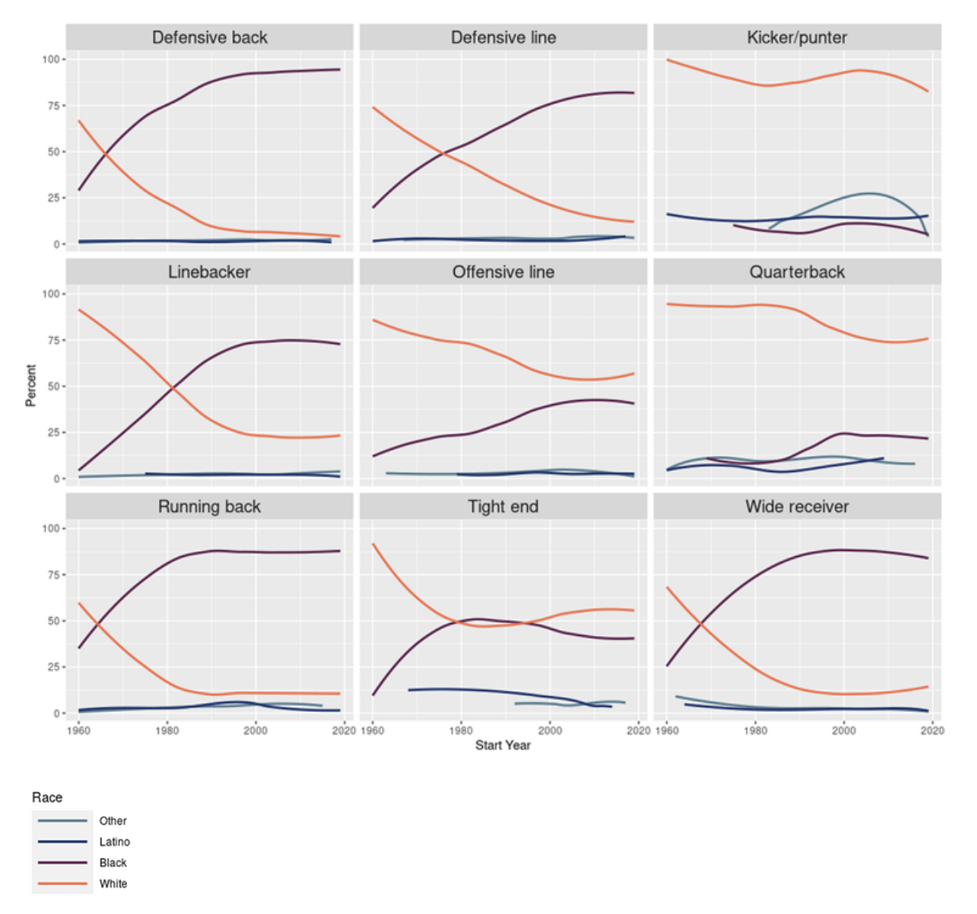 We believe these findings help us understand differences in health among former NFL players. Further studies may provide insight into ways to mitigate the harmful effects of such disparities.
If you would like to learn more about our work on health disparities, view some of our prior study results.
If you have questions about this information, please email us at players@footballplayershealth.harvard.edu or call us at 617-432-5000.
If you are in distress or require immediate assistance, please contact the NFL Lifeline at 1-800-506-0078 or visit their website to chat with a trained counselor.