Results: Unexpected Consequences of Concussion
Concussions are one of our program's top research priorities. While we are conducting several studies to examine how concussions may affect brain health, we are also exploring how head trauma can impact other key areas of former player health. Below, you will find our findings regarding concussions' potential impact on sexual health, along with some action steps and resources to help individuals address these issues.
What the Science Says
Our analysis of 3,400 former players indicates that concussions and other conditions that disproportionately affect former NFL players may have adverse effects on sexual health. Specifically, we found that:
Former players who sustained more concussion symptoms during their playing years (loss of consciousness, disorientation, nausea, etc.) were more likely to experience erectile dysfunction (ED) later in life.
Former players who sustained more concussion symptoms also had a greater likelihood of being diagnosed with low testosterone, a condition which is thought to lead to ED and poorer overall health.
Sleep apnea, prescription pain medication use, hypertension and obesity additionally increased former players' risk for ED and low testosterone.
Studies of military veterans and boxers yielded similar findings regarding head trauma and sexual dysfunction. Strong associations between head injury and ED have also been found in civilians with just a single traumatic brain injury. This evidence, along with our findings, suggest that ED and hormone dysfunction are, in part, physically-based issues brought on by repeated head injury.
The graph below is an illustration of the relationship between ED and loss of consciousness – one of the 10 concussion symptoms we studied. It demonstrates how the percentage of players with ED changes as the number of loss of consciousness events increases.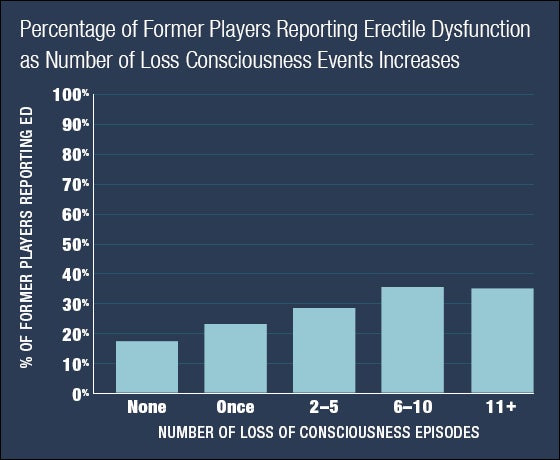 Potential Action Steps
Although this topic requires further study, there are many things you can do to improve your sexual health now.
ED is highly treatable and can be a symptom of a more serious condition, such as heart disease. If you are experiencing ED or other symptoms of poor sexual health, talk to your doctor about these concerns and how you can address them.
Sleep apnea, hypertension, low testosterone, and obesity can significantly increase your risk for ED. Work with your doctor to assess these — treating even just one issue may lead to significant improvements in sexual health as well as other important health areas.
Resources
Below are external resources that may help you be proactive about your sexual and overall health.
Cleveland Clinic: Sexual Health: a reliable source of information on ED, low testosterone and related matters.
The Trust Brain and Body Assessment: provides comprehensive medical evaluations to identify areas of concern and the resources and services to address them.
If you have questions about the information above or would like to learn more about the Study's other research on concussions, please call (617.432.5000) or email us. We welcome your questions and feedback.
Read the paper: Association of Concussion Symptoms With Testosterone Levels and Erectile Dysfunction in Former Professional US-Style Football Players